Nothing says Summer like lounging on your backyard, enjoying the warm weather, keeping cool with cold drinks. This wood drinks table is the handiest, most convenient piece of outdoor furniture you'll find out there.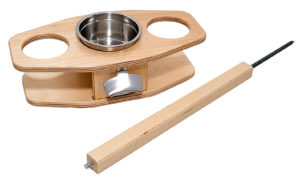 The reason we like it so much is because it's handy, compact and the detachable leg has a fiberglass stake that allows you to place it anywhere you want. The table holds two drinks and a handy bowl for snacks, and to make it even better for us loungers, it includes a super handy bottle opener. It also is great for the beach. Bonus!
We're hoping for a never-ending Summer.
You can find it on Etsy.