We all know the value of making a good first impression.
A beautifully maintained lawn and landscape is your first chance to impress when your home goes on the market. Potential buyers will pull up and immediately see the effort and investment that's been made in the property. In fact, several studies have shown that there is a direct correlation between investing in a home's landscape and value increase.
When compared to other upgrades and renovation projects, a healthy lush lawn is fairly affordable to achieve and maintain. Proper mowing, feeding, watering as well as weed and pest control may boost the value of your home and is well worth the investment.
Start here:
Water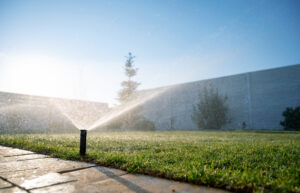 Give your lawn water a few times per week. Focus on watering deeply and less frequently. This approach encourages root growth and decreases the chances of disease and weeds. You may also want to check your irrigation system to be sure it is working properly and adjust if needed.
Feed
Fertilize your lawn according to the time of year and type of grass you have. You may already have an established routine but if not, evaluate your options for what you need. A quick acting application can green things up temporarily. If you have more time, consider a schedule with slow-release fertilizers that will give you more bang for your buck over the long run.
Weed and Pest Control
Certain stresses on the lawn, such as improper watering or cutting it too short may encourage weed growth. Keep a look out for areas that may need extra attention with herbicides or pesticides to get it back into shape. You can always contact a professional service to help you figure out proper treatment as well.
Mow and Edge
A crisp cut lawn will look fresh and ready to impress. Cut your lawn with a sharpened blade and only remove that top one third of growth. Edge with a manual or powered edger along pathways, driveways, or the perimeter of the lawn to achieve a clean and sharp appearance.