Preparing to sell your home can be a daunting task for any homeowner. There are so many things to consider like a freshening up the paint in the living room, removing the clutter around the house, cleaning, and then cleaning some more. But what about the front yard? Did that make the list? A few simple upgrades and a little elbow grease will have you reaping the benefits of your home's value. 
Freshen things up!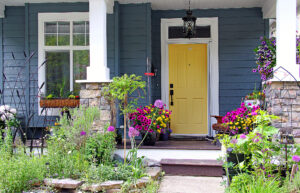 This could mean painting your front door or the entire house if you have the means and the motivation! Look for spots where the paint is chipping or peeling and touch it up. If paint is not an option or needed, you may just need to get in there and do some cleaning. Pressure washing siding, pathways and even the driveway will help make a great first impression.
Sort

 it out
Organize and arrange your things in a pleasing manner. Properly spaced decorative pots look sharp and intentional. A cubby to hide away your garbage cans and recycling bins. Hide or camouflage utility boxes or septic pipes with screens, birdbaths, or a fountain.
Spruce 

up the landscape
Remove any dead or unsightly shrubs or trees. If they can be saved with a little pruning, get on it! Pull weeds and make sure the beds are looking tidy with a fresh layer of mulch. If you have rocks in your landscape, you may need to add more to ensure nice even coverage. Maintain a fresh cut lawn with sharp edges and minimal weeds. Feed and water to keep it looking lush and inviting. 
Add some glam
Replace old fixtures that have seen better days. Metallic hardware or fixtures, like address numbers, lighting or doorknobs are easy items to upgrade or enhance your outdoor space. Don't sleep on that mailbox either.
Color your world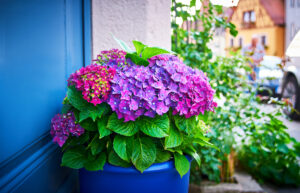 Add splashes of color to catch the attention of potential buyers. What better way to frame up that mailbox than with a fresh planting of flowers or vibrant foliage? Add hanging baskets to your front porch or decorative planters on the patio. We mentioned painting that front door earlier. Why not go with a bold color? Nothing too crazy but something that makes your house stand out from the others on the market. Bright cushions and pillows on furniture is easy to add and switch out for the seasons as well. 
Find time to make some basic improvements. You'll see a return on your investment with the effort made into making the outside shine as bright as the inside.